At Saniderm, we know better than anyone that there is a lot of information out there about tattoo aftercare. Not only that, but a lot of the time that information is conflicting. We watch a lot of tattoos heal on a daily basis, be it through social media, submitted questions, or at trade shows. Because of that, we thought we'd share our insights into the best stuff to put on your new tattoo.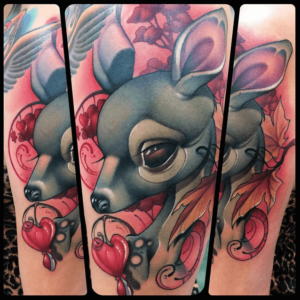 What Can You Put On A Tattoo
Immediately after your new tattoo
As a rule of thumb, avoid using anti-bacterial ointment on a new tattoo. The thick petroleum in anti-bacterial ointments can cut off oxygen and suffocate the healing wound. This can also draw the ink from the tattoo to the surface of the skin, causing color to fade. If using Saniderm, you don't need to apply anything to your tattoo before applying the bandage. However, you're welcome to apply an extremely thin layer of an aftercare product specifically designed for tattoos. Personally, we use and recommend Sanibalm for this. Sanibalm is non-petroleum based and uses sea buckthorn oil, which is rich in antioxidants. Products like this help the healing process along and keep your new tattoo moisturized.
Additionally, airborne bacteria can penetrate through your broken skin. For this reason, it's important to cover the tattooed area with a bandage or dressing. As the makers of Saniderm, we're naturally a little biased, but we believe we make the best tattoo bandage on the planet for a lot of reasons. We advise against using saran wrap for extended periods of time, as it can suffocate your tattoo. Remember: healing tattoos need oxygen.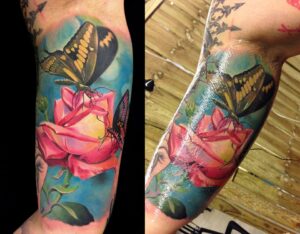 Hours later/the next day
Once your tattoo is dry, the skin around the area will begin to feel tight. This happens as your tattoo dries out, and it's a good indicator that it's time to apply moisturizer. Once again, we use and recommend Sanibalm for this. Rub it in gently until it's absorbed by the skin — be sure to apply a very thin layer. It's important not to apply too much ointment, or you can suffocate the tattoo. Continue applying your aftercare of choice each time you gently wash the tattoo for 3 to 5 days, or until your tattoo starts to peel.
When using Saniderm, we recommend that you use 2-3 bandages total (used in succession) to allow ample time for healing. Use your first Saniderm bandage for 8-24 hours, and then keep the next two pieces on for between 1-6 days each (depending on how much fluid the tattoo is leaking still). If you believe that your tattoo needs more time to heal beyond that, you may continue applying additional Saniderm bandages. However, most customers report complete healing after 2-3 applications.
What Lotions Are Good for Tattoos?
Tattoo aftercare doesn't end once the bandage is removed. In fact, good aftercare lasts a lifetime. Specially designed tattoo lotions like Saniderm's Daily Tattoo Lotion not only help restore skin hydration, but they help protect your skin, so your tattoo continues to look vibrant and flawless for years to come. It's been specifically designed to support the care of your tattoo with a blend of healing ingredients.

For example, like Sanibalm, Saniderm Daily Lotion is enriched with pure sea buckthorn berry oil and antioxidants. Plus, it's lightweight and smoothes in completely, so it helps the skin stay firm, soft, and supple, but it doesn't leave a greasy residue.
What's more, it's designed to help ensure minimal irritation, especially for the sensitive healing skin. It's made with only natural ingredients without any harsh chemicals, artificial colors, fragrances, or other additives. This lotion was designed to minimize tattoo healing time and quickly help reduce dryness and scabbing.
What Not to Put on a New Tattoo
After getting a tattoo, your skin is a healing wound and the skin is especially sensitive. Over the next several weeks, the skin will be working hard as it heals. While many people understand the importance of tattoo aftercare within the first several days of receiving their new artwork, they may think they can just use their standard body lotion after the skin "looks" healed. This, however, can be a big mistake.
There's a wide range of different types of creams, balms, and lotions, and it's challenging to find the right one for your skin type, even before receiving a tattoo. Unfortunately, some products can cause more damage than good.
To ensure you are helping your tattooed skin heal, look for lotions, creams, or balms that are:

Specifically designed for tattoo aftercare.
Are made with natural ingredients (e.g., oils and butters) and avoid the use of artificial colors, scents, and preservatives that can irritate the skin.
Do NOT contain antibiotics (such as Neosporin and Bacitracin), which can lead up to 40% of people to develop allergic reactions.
No matter what aftercare lotion you choose, keep a close eye on your skin for several days to make sure it's not causing any irritation or increased sensitivity.
Continue to clean and moisturize your tattoo
It is important to continue to maintain proper cleanliness and moisturizing of your new tattoo until it is fully healed. This can take anywhere from 3 to 6 six weeks, depending on the size and location of the tattoo. Have additional questions about application or removal of Saniderm? Ask our knowledge base!