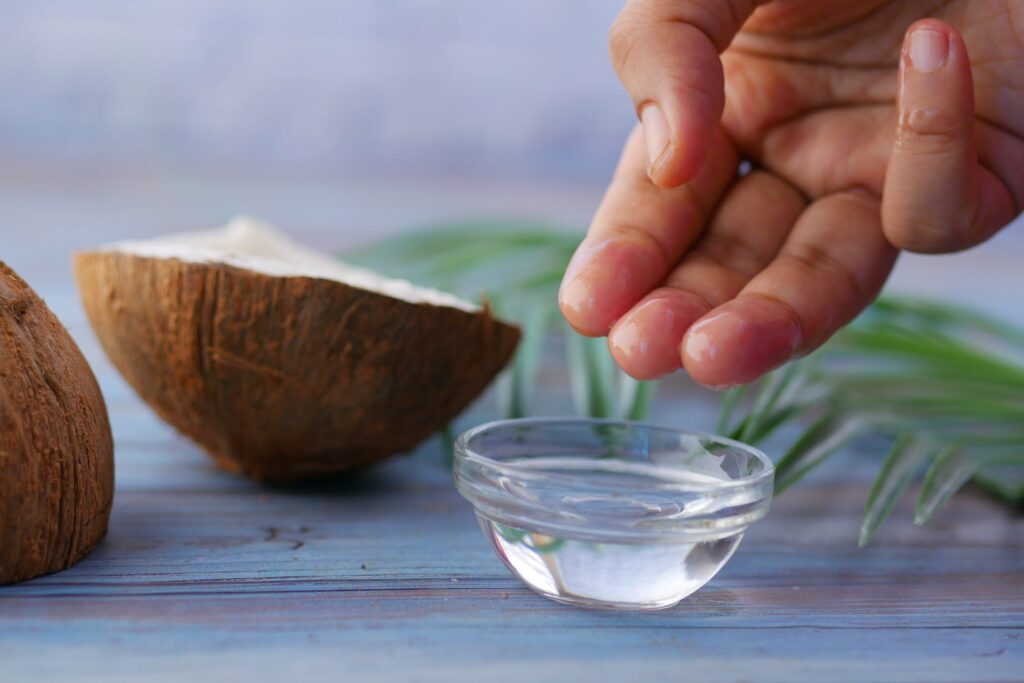 By now, you've likely heard of the many proclaimed benefits of coconut oil. As the claims have grown, so has the popularity. Coconut oil is used for everything from promoting weight loss (often as part of a ketogenic diet) to supporting brain health to helping skin heal. So, it's only natural to wonder if a dab of coconut oil on tattoos can help them heal.
Shop Tattoo Balms & Lotions
Coconut Oil: What Is it Good for?
Coconut oil is popular not only for cooking, in smoothies, and for fat bombs but for use in skin- and hair-care products. While there's some debate on whether or not coconut oil when consumed is as healthy as some proclaim (it's also high in saturated fats), some of the claimed benefits include promoting:
Good (HDL) cholesterol levels
Blood sugar control
Stress reduction
Shiny, silky hair
And, of course, healthy skin
Coconut Oil for Skincare
Coconut oil has been used for thousands of years to promote smoother, softer, healthier skin when applied topically. It was even used in ancient India to treat burns and wounds and relieve dry, peeling skin. In fact, it's still used by Ayurvedic practitioners today for this purpose.
Coconut oil has been shown to support the skin's natural protective barrier and healthy levels of inflammation to potentially reduce skin swelling. It is also highly moisturizing. No wonder it's recommended for tattoo aftercare.
After receiving a new tattoo, your immune system is activated to heal thousands of needle pierces. Your skin needs extra TLC as it heals. Plus, you want to avoid allowing the tattoo to dry out, but it also needs to breathe.
Can You Put Coconut Oil on a Tattoo?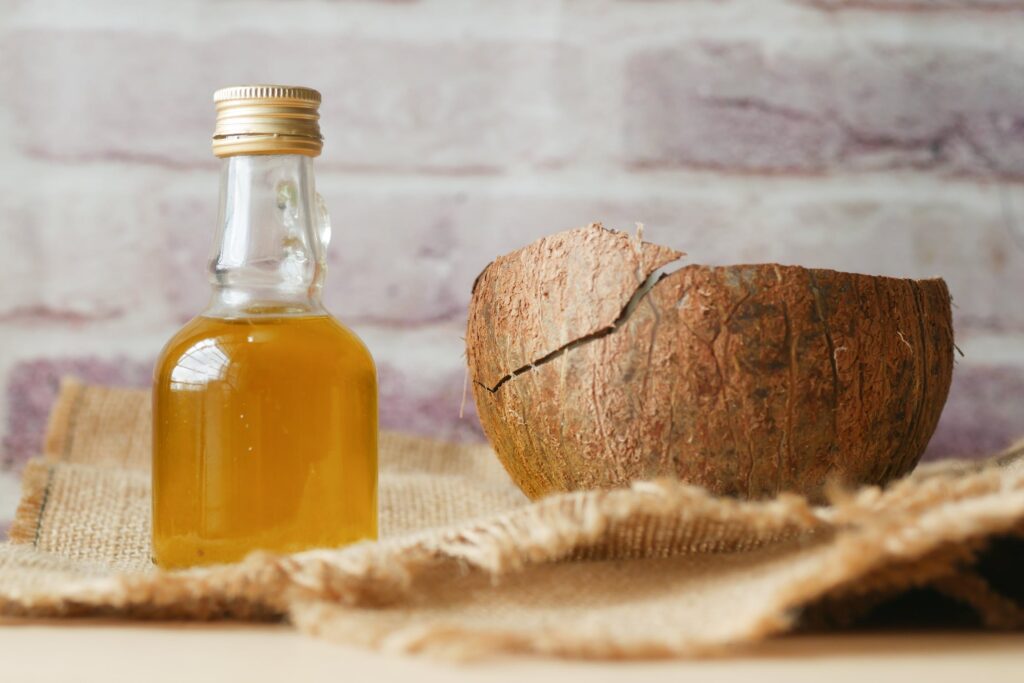 According to both dermatologists and tattoo artists, as long as you have no allergies or sensitivities to coconut oil, you can indeed use coconut oil on tattoos. Coconut oil can be good for tattoos during all stages of the healing process as well as on tattoos you've had for years. It's gentle enough to use daily, even on sensitive skin.
In addition, because coconut oil is rich in lauric, capric, and caprylic acids, which appear to have antibacterial effects, it may help decrease the risk of infections from microbes, including bacteria, viruses, and fungi. And because it provides vitamin C, vitamin E, L-arginine, and lauric acid, it may also help the skin fight inflammation, so your tattoo doesn't feel as red or inflamed. Coconut oil also provides proteins like collagen, which are needed to rejuvenate skin after trauma.
Finally, coconut oil is rich in fatty acids, including medium-chain fatty acids (MCTs), that both highly moisturize the skin and provide a protective layer, which is why it's commonly used for dry, flaky skin. It may even help your tattoo look more vibrant.
Coconut Oil on Tattoos
Coconut oil is affordable and safe for most skin types, including those with sensitive skin. That said, coconut is related to tree nuts, so if you are allergic to nuts (like almonds and cashews), you may (or may not) also be allergic to coconut. You'll also want to be cautious if you have a palm tree sensitivity.
While coconut oil allergies are rare, they do happen. So, before using coconut oil on a tattoo, do a spot test on your skin away from your tattoo. For instance, pick a sensitive patch of skin (such as the inside of your forearm) and apply a dab of coconut oil or your tattoo balm that contains coconut oil. Then cover the area with a bandage and wait for 24 hours before using it on any other skin.
Don't use the oil if it causes the skin to feel itchy or irritated (i.e., contact dermatitis) or if it causes the skin to lose pigmentation (i.e., if it looks lighter than the surrounding skin). Even after regular use, a small number of people develop contact dermatitis after using coconut oil for some time. So, even if you've used coconut oil in the past, it's worth doing a spot test before using it on your new tattoo.
Learn More: Sanibalm: What Is It and How Does It Work?
Is Coconut Oil Good for Tattoos?
Coconut oil is affordable and easily accessible. Plus, it's all-natural, and a little goes a long way. That is, you only want to put a light layer of any moisturizer on your tattooed skin, so the skin can breathe as it heals.
You can also use coconut oil for other uses, so it won't go to waste. For example, you can use it on dry hands, to deeply moisturize the skin after getting out of the shower, to help relieve burns, and to help wounds heal.
You can use straight coconut oil or skincare products that contain coconut oil. You will, however, want to be cautious with any product as many contain chemicals, artificial ingredients, and fragrances that could harm your tattoo (and your skin). So, remember to look closely at the label and ensure it's free of unwanted additives.
The Best Coconut Oil on New Tattoos
Plain coconut oil can be used on tattoos, but there are other options that have been created specifically for tattoo healing, which may be even more effective. Remember, the first few weeks after your tattoo are vital for a healthy, vibrant, beautiful-looking tattoo.
One calming, intensely hydrating option is Sanibalm, which was specifically created to moisturize your new tattoo and protect it from scars and distortions.
Sanibalm is made with coconut oil along with shea butter, calming sea buckhorn, and colloidal silver to infuse your skin with nutrients and hydration, so it stays healthy and supple as your tattoo heals.
It can also be used after your tattoo is healed to help it stay bright, vibrant, and beautiful. Plus, the formula is 100% natural and is free of gluten, parabens, sulfates, petrochemicals, phthalates, and parabens, which could damage your new tattoo.
11 Reasons to Use Coconut Oil on Tattoos
To wrap it up, there are very good reasons to use coconut oil on tattoos, such as:
It's intensely hydrating and naturally locks in moisture.
It may protect against infections caused by microorganisms.
It may help the body fight free radicals and help support healthy skin cell production.
It may support healthy levels of inflammation to promote wound healing.
You only need to use a small amount, so your aftercare cream will go further.
It's a natural product that works with many different skin types, even sensitive skin.
It can make the tattoo healing process more comfortable as it decreases inflammation and itching.
It's easy to find.
It may help your tattoo heal faster.
Unlike petroleum jelly and other products, coconut oil allows the skin to breathe and is easy to wash off without leaving a film. That means it also doesn't feel sticky.
And you can use any left-over coconut oil from your tattoo on the rest of your skin.
Lastly, you can continue using coconut oil on older tattoos to help them look bright and vibrant for years to come. Even years after receiving a tattoo, it's important to look after the skin, so it, and your tattoo, continues to age well.
Related Articles
References: Kim S, Jang JE, Kim J, Lee YI, Lee DW, Song SY, Lee JH. Enhanced barrier functions and anti-inflammatory effect of cultured coconut extract on human skin. Food and Chemical Toxicology. 2017 Aug 1;106:367-75. https://pubmed.ncbi.nlm.nih.gov/28564614/