What You Need To Know Before You Get Your First Tattoo
So — you're thinking about getting your first tattoo. If you're like many new tattoo receivers, you may not be 100% certain of the design you'd like to get. In fact, you may not be sure which artist you'd like to go to, how to choose the best shop, and what to look for when you visit a prospective shop. There's a lot that goes into planning your first tattoo, and if you have any of these questions, then this article is for you!
Researching your design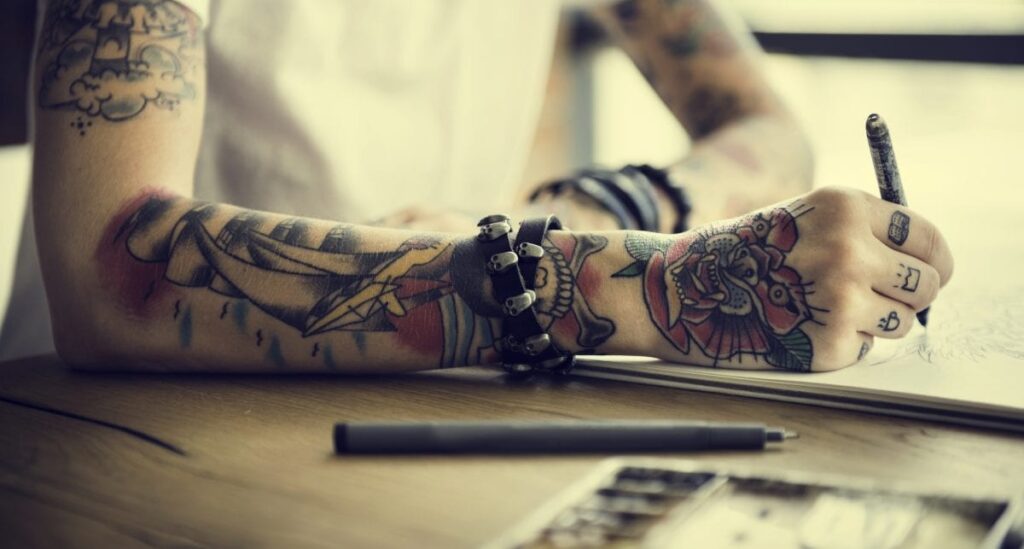 When deciding what kind of design you'd like, it's important to keep a few things in mind:
You will more than likely have this forever. Yes, there are options for removal. However, they are expensive, painful, and can potentially leave a scar in the shape of what your tattoo once was. Take your time and shop around. Look at different designs and figure out what resonates with you.
Go into prospective shops and meet your potential artist. Figure out how many sessions your design will take to complete, and if the artist has any recommendations on how to improve your design.
Taking a broad/vague suggestion to your artist is not a good idea. Instead, take specific suggestions to your artist and see if they have ideas to compliment yours. Professional artists see a lot of tattoos, and their input is important if you want the best tattoo possible.
Additionally, try browsing tattoo images using platforms like Pinterest, Tumblr, or Instagram. Each of those services will have tens of thousands of tattoos for your viewing pleasure, and from some of the best artists around the world. Take note of the style of tattoos you see that you like — there are a plethora of beautiful and distinct tattooing styles out there. Some popular tattooing styles include: traditional, realism, watercolor, new school, neo traditional, blackwork, and trash polka.
Choosing an artist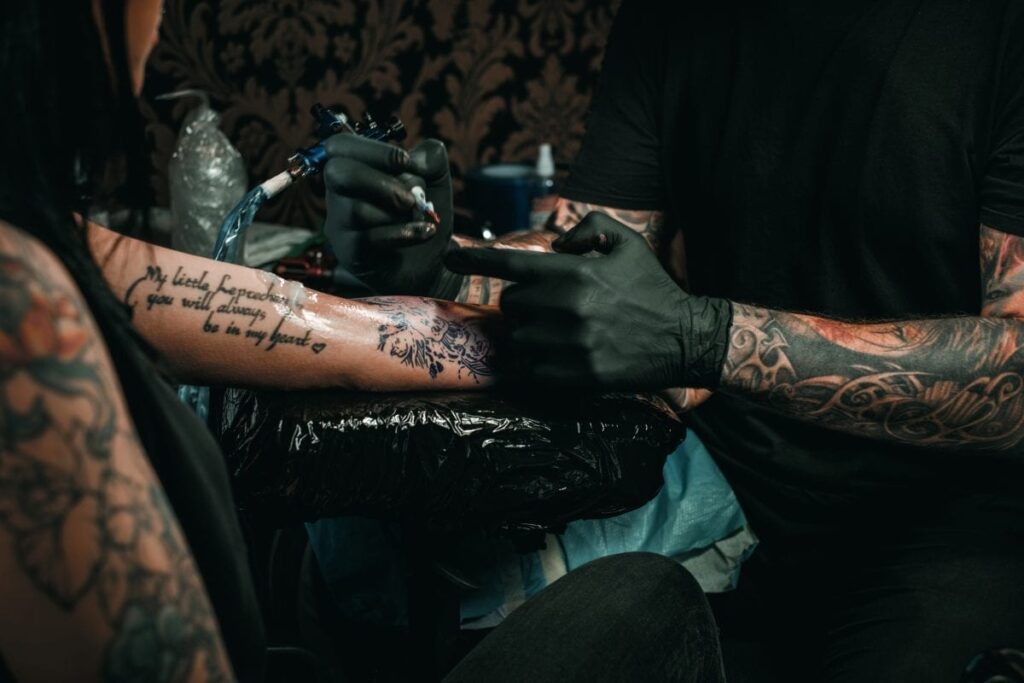 One of the most popular ways to begin the hunt for an artist is to take to Instagram. However, bear in mind that some artists have a wait list — especially popular artists on social media. Many artists are booked out months and even years in advance. For artists with wait lists, expect to put down some sort of deposit to hold your place in line.
Once you have chosen the design you want and found an artist whose tattooing style suits you, your next step is to take a trip and visit their shop. Pay special attention to the cleanliness and organization of the shop. If the shop is dirty and unorganized, that's a good indicator that you may want to look for a different shop. It's also good to ask a few additional questions, including:
How long has the artist been tattooing?
Do they guarantee their work?
Are they willing help you out if you need touch ups in the future?
How much will each tattooing session cost?
Once you've covered everything you want to discuss with your chosen artist and you're comfortable with your choice, the only thing left to do is get your tattoo.
Getting your first tattoo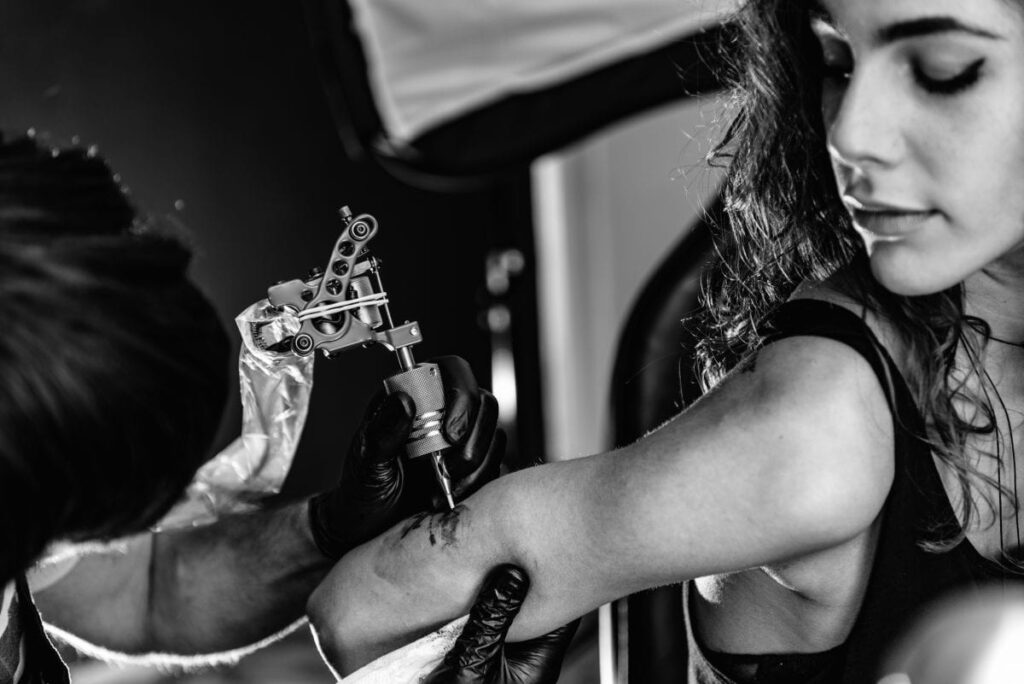 Getting tattooed can be an intimidating process, especially if it's your first time. But if you follow a few simple tips, you're very likely to have a good tattoo experience.
Keep yourself hydrated and avoid drinking alcohol for 12 hours before you get your tattoo. Alcohol can jeopardize the healing process of your fresh tattoo — not to mention that most artists won't tattoo you when you're intoxicated. Other additives to avoid prior to a tattoo appointment include over the counter painkillers and high amounts of coffee.
Be prepared. Even a single session can take several hours, depending on how intricate your design is. It's a good idea to bring a light snack and a hydrating drink with you.
When receiving your tattoo, you are going to be stuck repeatedly with a needle, and that is going to hurt. However, getting a tattoo in an area where your bones are near the skin without much muscle or tissue beneath — such as feet, ankles, elbows, and ribs — will be more painful. To find out which areas hurt the most and the least, check out our detailed tattoo pain chart.
Helpful Advice: Try some deep breathing exercises to help your body relax throughout your tattoo.
Tattooing etiquette
Is it okay to bring my friend/s with me to get my tattoo? The bottom line is that If you want to get the best tattoo from your artist, distractions ought to be limited — including friends & family. That being said, it's pretty common for people to bring a person to support them through the process. Most artists are fine with that, however, be sure to ask prior to your appointment.
Should I tip my tattoo artist? It is a common courtesy to tip your artist after each session. The average tipping rate is similar, percentage-wise, to tipping a server at a restaurant (10-20%). The last thing you want to do is stiff your artist because your tattoo was too expensive, or you can't afford to tip.
Tattoo Aftercare
Proper tattoo aftercare plays a huge role in how much color and detail of your tattoo will retain. Learn more about Saniderm and the importance of proper aftercare in Saniderm's Tattoo Aftercare Knowledge Base. Never neglect proper aftercare!