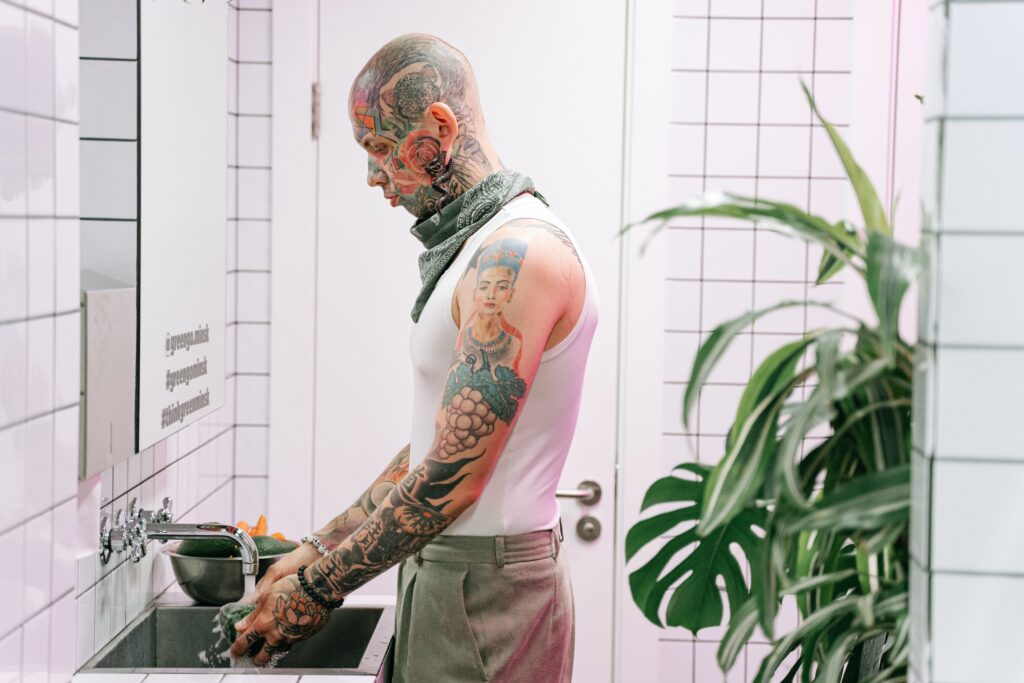 Now that you've got a new tattoo, aftercare can help it heal properly, so it looks crisp, clean, and vibrant for decades to come. And that aftercare starts immediately after you leave the tattoo shop to help ensure it doesn't get infected and heals properly. The first thing you'll need to know is how to clean your new tattoo, followed by how often you should wash your new tattoo.
How Do You Clean a New Tattoo for the First Time?
When you leave the tattoo shop, your tattoo artist will first clean, moisturize, and wrap your new tattoo with a tattoo bandage. You can leave your original bandage on for between 3 and 24 hours. The timing will depend on how much your tattoos leak blood, plasma, and ink (which is completely normal). Within the first 24 hours, you'll want to clean, moisturize, and reapply a new, clean bandage.
Of course, now you're on your own without the help of your tattoo artist. To remove your current bandage and replace it with a clean one, begin by finding the edge of the bandage and gently pull it back over itself. To avoid the pain of pulling out hair, before getting any tattoos, ensure the area is shaved. Then, when removing the bandage, pull it off in the direction of hair growth.
You can do this either in the shower or at the sink. A shower with lukewarm water can help loosen the adhesive and help you and your skin relax, for a more comfortable experience. (No one likes to rip off a bandage!)
Toss the used bandage, and gently wash the tattoo with mild, fragrance-free, antibacterial soap. Don't rinse new tattoos directly under the water, though. Instead, splash lukewarm water gently onto the new tattoo until fully rinsed.
Once your tattoo is cleaned, allow it to either air dry or use a clean, dry paper towel or clean towel you aren't using on the rest of your body. You want to avoid contaminating the fresh tattoo, which is a skin wound, with any bacteria, dirt, mold, etc. as well as protect it from rubbing on any clothing.

Before applying a clean, fresh tattoo bandage, apply your chosen aftercare lotion or ointment to the tattoo if you have dry skin. If, however, you naturally have oily skin or it's currently humid, you can skip this step. However, if the skin does get dry, it can cause healing tattoos to itch, and a quality moisturizer (like Sanibalm) can help in the healing process. Finally, it's time to apply a new bandage according to the package instructions.
Should You Clean a New Tattoo Every Day?
If you're using a Saniderm bandage, you'll want to avoid cleaning or washing your new tattoo every day. In fact, we recommend leaving your second bandage in place for three to six days—with six days being optimal. Of course, if the skin is irritated or the tattoo is continuing to leak, you will want to remove the bandage and clean the tattoo sooner.
After those initial days, though, as your tattoo heals, and once the tattoo has begun to scab, peel, or flake, you no longer want to leave on the bandage. You will, however, want to ensure the tattooed skin stays clean and moisturized.
Not only will you want to clean your tattoo daily but two to three times each day using lukewarm water and an antibacterial, fragrance-free soap.
How to Clean a Tattoo
Start with clean hands (every time!) and gently wash the tattoo with fragrance-free, antibacterial soap and allow it to air dry or pat it gently with a clean towel. Then, again with clean hands, apply a light layer of aftercare lotion or balm. Continue cleaning in this manner for around two weeks or until the tattoo is no longer peeling or looking dry and cracked.
Remember, though, that even after your tattoo appears healed, the skin is continuing to recover beneath the surface. The deeper layers can take two to four months to fully heal. As the skin repairs, it's a good idea to continue following your moisturizing routine with a quality tattoo balm or ointment like Sanibalm throughout this period.
How Long Should You Wait to Wash Your Tattoo?
You'll want to avoid washing your tattoo too soon or waiting too long. Generally, you'll want to wait for no less than five hours and no more than 24 hours. And of course, not washing your tattoo at all is a bad idea.
Be aware of the importance of only washing or touching your tattoo when your hands are clean. For the first few washes, you may see some oozing ink and plasma (a thick, sticky substance), but this is completely normal.
Which Soap Should I Use to Clean My Tattoo?
Choosing what to clean a tattoo with is an important decision. You want to avoid a soap that is too harsh as well as soaps that contain added fragrances, dyes, or chemicals that could affect your healing tattoo. Antibacterial soap made for tattoos may help the tattoo heal faster.
While many tattoo artists recommend using Dial Gold for aftercare because it's both unscented and antibacterial, newer options like Saniderm Soaps have been designed specifically with tattoo healing in mind. These mild yet effective antibacterial soaps can help wash away dirt, germs, and impurities without introducing chemicals that could affect the look of your tattoo.
You don't need a lot of soap on tattooed skin, though, as too much soap on tattoos can take longer to remove and you may feel the need to scrub, which you want to avoid. A soap that easily rinses away can help make your tattoo aftercare easier and more comfortable.
When Can I Stop Washing My Tattoo with Antibacterial Soap?
While it may be tempting to start washing your tattoo with your usual body soap within weeks or a month of getting a new tattoo, that can be a mistake. It can take up to four months for a tattoo to fully heal, and specially made products for tattoos should be used during the entire healing process.
When can I stop washing tattoos? Never. As tattoos are part of the skin, you'll want to wash, moisturize, and protect the skin to help your tattoo look fresh and vibrant for decades to come. That said, you can wash and moisturize your tattooed skin the same as the rest of your skin after the tattoo is fully healed, and the tattooed skin feels the same as the rest of your skin.
Best Practices for Washing Your Tattoo: Washing a Tattoo DO'S and DON'TS
Can you wash your tattoo too much? Yes. Washing any part of your body too much can lead the skin to be dry and to crack, especially when using antibacterial soap. Your new tattoo is healing, so avoid over-washing and apply fragrance-free, tattoo-approved moisturizer if that tattoo looks dry or the skin feels uncomfortably dry and itchy.
When can I touch my tattoo without washing my hands? You'll want to avoid touching your tattoo (or allowing anyone else to touch the tattoo) without washing your hands until the tattoo is fully healed. Remember, that may take several months.
How many times a day should I moisturize my tattoo? While your skin type can impact how often you moisturize your new tattoo, professionals recommend one to two times daily, morning and night, especially after showering, to prevent the skin from drying out.

Do I have to wash my tattoo every time I put lotion on it? In general, moisturizing your skin after washing it each time will help prevent the tattoo from drying out, so it heals faster. You will, however, want to avoid over-moisturizing your tattoo.

How do you know if you over-moisturize a tattoo? Great question. While you do want to apply lotion to avoid allowing the tattoo to dry out, a tattoo exposed to too much moisture can lead to bacteria or germ growth or lead the skin to get inflamed or even infected. On the other hand, under-moisturizing a tattoo can leave it dehydrated, so it scabs and itches. The "just right" moisture level is to apply a nice thin layer of a quality tattoo lotion or balm once or twice a day, especially after showering.

What happens if I forgot to wash my tattoo? While you don't want to forget to wash your tattoo for days on end, if you miss a couple of cleaning sessions, don't worry. Your skin will continue healing. Just pick up where you left off as soon as you can.
Related Articles